Skid steers and track loaders are two heavily relied upon construction devices. At first glance, they appear to be similar. But, on closer inspection, you'll notice they're starkly different. Below you'll discover more about each of these machines and some tips you can use to figure out the right pick for your job. 
What's a Skid Steer?
A skid steer is a lightweight device that's built for digging and utilizes either wheels or tracks to roll over terrains. Unlike other machines, the skid steer's tracks and wheels don't swivel. Instead, they stay in a single position. This zero-turn radius requires the driver to rotate the undercarriage so its body moves at different angles. It might seem like a hassle but this feature keeps the skid steer stable. 
Contrary to track loaders, skid steer wheels and tires do wear down quickly. Because of this, you'll need to scan them often and usually have them replaced every few months. 
Types of Skid Steers
Small – lifts up to 1,750 pounds.

Medium – lifts up to 2,200 pounds.

Large – lifts over 2,200 pounds.
What's a Track Loader?
Track loaders are bigger than skid steers and can be used for digging and loading. They use thick tracks with special treads to keep them secure to the ground. This makes them a bit sturdier so they're safe to use on slopes and bumpy landscapes. As with skid steers, track loader tracks don't rotate so the driver needs to revolve the undercarriage to reach various spots. 
The one thing to watch out for with track loaders is their track condition. Even if just a small portion of this component is damaged, you'll need to replace the entire thing. Over time, this could end up being pricey. 
Types of Track Loaders
Small – lifts/moves up to 3,290 pounds.

Medium – lifts/moves up to 4,700 pounds.

Large – lifts/moves up to 4,725 pounds. 
Benefits of a Skid Steer
It's an affordable option and its parts can be quickly replaced.

It's more compact.

It's lightweight and can move faster.

It offers better visibility making it easier to maneuver. 
Benefits of a Track Loader
Despite being heavier, its tracks don't tear up the ground as much.

It has good track tension making it practical to use on slopes.

It can carry extremely heavy loads.

It has excellent machine balance.
Should I Rent or Buy One?
Many times, buying a device sounds ideal. But, this can often be expensive, especially if you're still hesitant as to which is right. 
If you're already experienced with these devices or are willing to make a substantial purchase, buying might be good. But, if you're on a budget or only need the machine for a single project, renting might be the right choice. 
Keep in mind that some dealers might only rent older models. This means you won't get to experience the new technology many modern skid steers and track loaders are now embedded with. 
Overall, before rushing into a decision, carefully think about your needs. This way, you can make a confident choice. You could even see if the dealer will allow you to do a test drive so you can get a feel of how they work.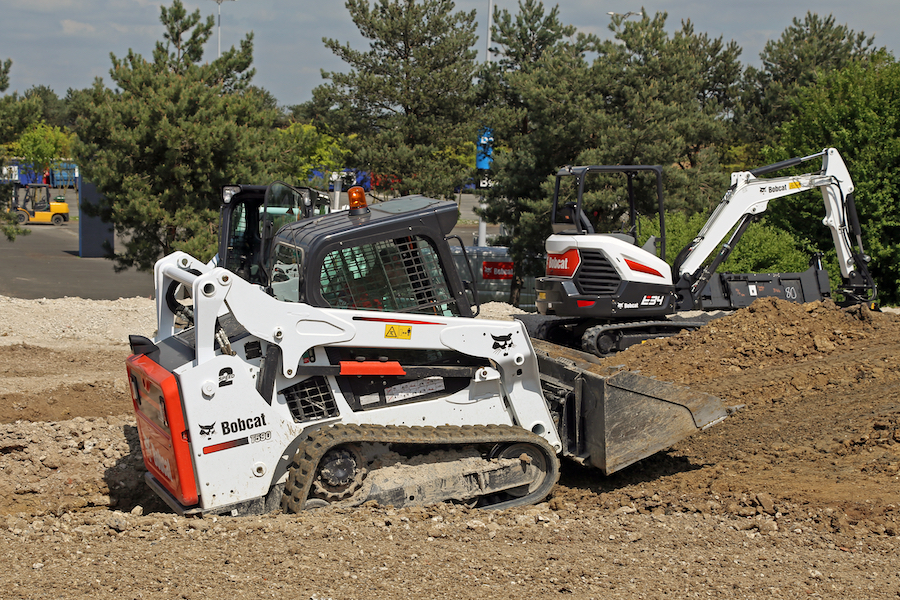 Which is Right for Me?
If you're still unsure which to use for your task, consider these aspects. 
Check the Attachments
While skid steers and track loaders both use an attach plate, the attachment types they allow differ. For instance, track loaders tend to have more hydraulic flow. This allows them to move more efficiently than skid steers and to lift and haul heavy attachments with ease. 
You'll also want to check the attachment's weight restrictions. While the machine might be equipped to raise hefty items, that doesn't mean the specific attachment can. Because of this, confirm that the piece has an adequate weight limit for your job. 
See if it's Comfortable
Comfort might seem like the last thing to worry about but it's vital. If the machine is cramped or difficult to sit in, it could affect how well you do the task. To ensure the appliance is comfortable, check its seating, if it's enclosed, and if it offers interior temperature control. In general, track loaders tend to be a bit cozier because they're larger. 
If You Want a Radial or Vertical Lift
The main similarity between these two devices is that they either have a radial or vertical lift. A radial lift allows you to carry the load closer to the device giving it better support. It also provides more reach. This makes radial lifts good for moving minerals and for grading. On the other hand, a vertical selection has better dump and pin heights for hoisting and loading materials. 
Consider the Job Requirements
One of the most critical things to do is brainstorm your task's demands. Will it involve rough terrain? Will there be heavy lifting? Do you need to move at a fast speed? These can help you narrow down which machine is ideal. Otherwise, you'll find that the device might not do as well a job as you had hoped. 
Research the Dealer
It might also be beneficial to carefully look into the seller. You'll want to check previous reviews, how long they've been in business, and the scope/quality of their inventory. This can give a better idea of how reliable they are and whether the skid steer or track loader you rent or purchase from them will work for you. 
Besides helping you see the condition of their machines, this aspect can guide you toward a dealer who can in return direct you to the right option. If you still have questions or are at a loss for which to use, a dependable dealer can assist you with finding the perfect one. 
Skid steers and track loaders have a few similarities but they're still very different from each other. Due to this, it's important to carefully consider each of their distinctions. By using this information, you can decide which one is right for your project.