Are you looking to rent a crane? If so, you've probably noticed the vast selection available. Devices of all sizes and features are at your disposal, but you have to carefully sort through them to find the right one for your task. Below you'll find a handful of tips you can use to figure out which model is best to rent.  
8 Tips for Discovering Your Ideal Crane Rental
Analyze the Crane Types
As you begin your journey, it's good to first probe the different versions available. Here are some of the most common crane varieties you'll come across. 
Tower
This pick is often used in cities because it can reach staggering heights. 
Hammerhead
While a hammerhead crane appears similar to a tower one it has a luffing feature allowing its jib to be raised or lowered. 
Telescopic
This option uses a telescopic boom to lift objects and then hoist them to a specific height. 
Truck-Mounted
As its name implies, this one is attached to the back of a truck to ensure stability as it runs. It also features a rotating boom. 
Rough Terrain
A rough-terrain crane is built onto a small vehicle that can drive over bumpy areas with its thick rubber tires. This makeup assists with ensuring the crane can steadily reach separate job sections. 
Loader
This crane is used to move items off of a truck or boat. Its jib can move in various directions so you can carefully place the objects down. 
Crawler
Crawlers are situated on top of an undercarriage and use wide tracks to roll across landscapes. These are best for lifting extremely heavy pieces.
Floating
This crane floats on water making it ideal for marine construction or for removing cargo off of ships. 
Bulk-Handling
These cranes are built with a hefty base because they're designed to carry vast amounts of natural elements, like minerals. They have a bucket at the end of their jib that will scoop and move the particles to a different area. 
Bridge
A bridge crane balances on hoists and rests horizontally. This allows workers to place large quantities on it to save time. Once it's filled, it can be moved up or down to be unloaded. 
Contemplate the Job Requirements
One of the most vital methods for finding the right crane is to make a blueprint of the task's demands. Some things to look at include:
The site's size

If there are safety hazards 

Its terrain

The materials the crane will lift

How long you'll need the device

If there's adequate crane storage on the site
After jotting these aspects down, chat with a crane dealer who can direct you to a potential model for the job. In addition to this, the seller can calculate other details for you, such as the crane's swing, reach limit, and height.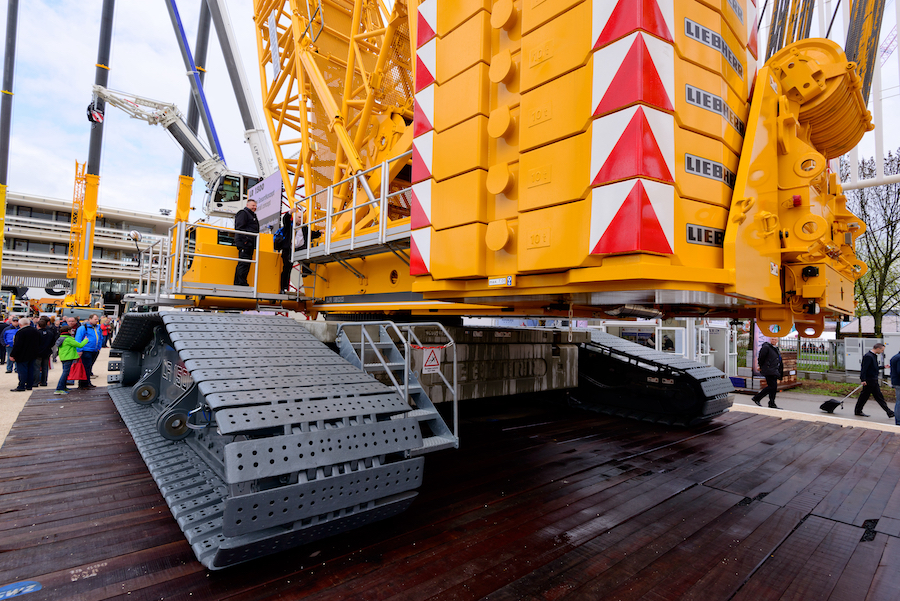 Look for Bids
You might also want to search around for a few job bids. This can help you find nearby dealers but gives you options. Ideally, try for three bids. This way, you can see what they have in common and what extra characteristics each bidder offers. The process might take some time but it will guide you toward the perfect choice. 
Research the Dealer
Besides hunting for bids, make sure to meticulously investigate each dealer. While you might hear a few positive reviews about them, that doesn't mean they're a good fit for your project. You'll want to check a handful of review sites and even ask around the community to see if others have used the dealer's services. While there will be varying opinions, doing this can give you a general understanding of the company's reputation. 
Other details to look for include:
How long the business has been operating

The equipment quality

If they belong to the local chamber of commerce 

The scope of their amenities 
Ensure the Dealer Offers Referrals
To keep yourself safe from scams and sketchy dealers, ask the salesperson to give you two or three referrals. You can contact them to learn more about the rental company and of the person's experience with it. Some questions to ask a referral include:
What was the type of job you used the crane for?

What crane model did you use?

How helpful was the company? Did they assist you with finding the right equipment?

How was the crane's quality? 

What is your overall view of the dealer? Would you use their services again?
Create a Budget
Another important aspect to look at is your price range. Cranes span in their costs. The higher the price the bigger and more advanced the machine is. On the other hand, affordable options aren't usually as big or filled with settings, but they're simple and get the work done. 
It's key to make a budget before you search for a crane rental. This can help you narrow down your choices and stay away from those that might be tempting but aren't right for your job. 
After you create your main budget make sure to add a bit more to it. This can aid with covering extra costs like fuel and an additional power supply. By doing so, you can get a better idea of how much it will cost you to fully operate this device. 
Check the Delivery Options
You'll also need to see if there are delivery choices. Cranes are substantial and can rarely be pulled by an average truck. Besides this, you might have to transport supplies like jigs, load boxes, or grapples – all of which can also be heavy. Because of this, check if the dealer offers delivery plans or can direct you to a hauling company.
Obtain the Necessary Permits
Before you begin any construction task, confirm that you have the correct permits for the job. It's crucial to contact local government offices to look into if a permit is needed and that you acquire it before starting. This will prevent you from being fined or having the project stopped should you be reported for not having a license. It might also have details on the specific crane type allowed for the task. 
Cranes are useful appliances that can assist with various construction needs. But, you need to make certain you rent the right one if you want your project to go smoothly. By keeping these tips in mind, you can easily determine the best model and dealer for your assignment.